September 2021
Welcome Back to School and Our Hudson Happenings Newsletter!
---
September was a month full of excitement for the new school year. We hosted our first Parent Education Night, Back to School Nights, and our annual Welcome Breakfast. Our elementary students had their first field trips to the Liberty State Park Interpretive Center and upper elementary began their work on the Billion Oyster Project. Our younger students began the complex task of learning new routines and started the process of normalization. We also revamped our Hudson Happenings Newsletter to make it mobile-first! We realize that most people read their news on a mobile phone, so in the interest of making it easier to get info quickly and easily, this newsletter is designed for mobile use, first and foremost, giving you an easier, quicker reading experience in a digest format.
---
The 2021-2022 Welcome Breakfast was a Great Success!
---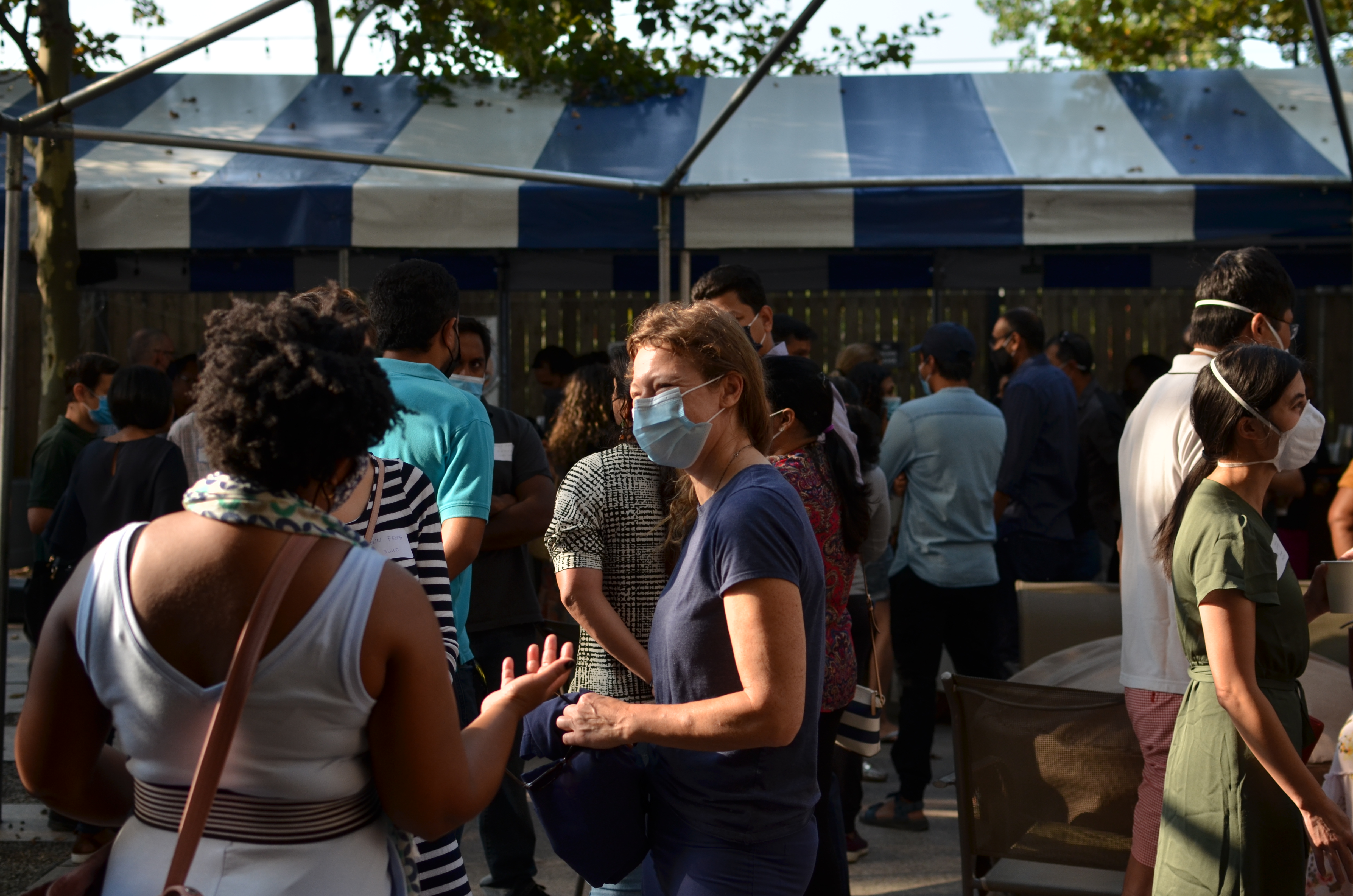 This week, we welcomed our new and returning families to the start of the 2021-2022 school year with an outdoor breakfast and meet and greet. While students were in their respective classes, parents mingled, some got to know each other, and others reunited for the first time after a year of limited in-person events at the school. Click here to read more.
---
Montessori in a Minute: Language
---
The Montessori curriculum has specially designed tools to help students grow their vocabulary and language skills. Essentially, every object in the classroom is a language tool for young children. Teachers introduce the item-specific names and use descriptive words like size, shape, and color to expand the child's vocabulary. Click here to read more.
---
Hudson Montessori School Hosts Back to School Nights
---
The first week of school for upper elementary students (4th, 5th, and 6th graders) at Hudson Montessori School means jumping right into learning with the older students' Back to School Night. The six upper elementary teachers helped parents understand what to expect at the virtual meeting. The teachers introduced parents to the curriculum elements—specifically math, language, science, technology, and finance. Click here to read more. Click here to read more.
---
First Day of School Recap
---
Thank you to all of the parents, students, and staff that made our first day such a success. We are grateful to see your smiling faces in person for another safe and fruitful year! Click here to read more.
---
Upcoming Important Dates and Events
---
October 6 – Parent Education Night: Language and Practical Life October 11 – Indigenous People's Day: School Closed October 22-29 – Book Fair October 29 – Theme Kickoff/Orange Day
---
Hudson Montessori School Hosts First Parent Education Night of the School Year
---
Parents from nearly 60 households logged on to participate in the first virtual parent education night of the 2021-2022 school year. Most were new families who heard the school's Montessori-trained staff members talk about the intricacies of the Montessori method of learning. Click here to read more.
---
Our Amazing Teachers
---
To Come
---
Work on the Billion Oysters Project Begins
---
To Come
---
Celebrating International Peace Day
---
To Come
---
---
June 2021
Hudson Happenings July 2021
---
July was a busy month for our students! They performed in our Year End Celebration: Keepers of the Earth, our middle schoolers presented their final projects, and we celebrated graduations in several classes. Click below to read about these events and more!
---
Hudson Happenings July 2021: Year End Edition
---
Please click here to view and download this edition.
---
---
May 2021
Hudson Happenings: May 2021
---
Please click here to view and download this edition.
---
---
Do you have questions
and want to contact us?
Call or visit us