Safety First. Being Prepared. Together.
Anticipating that Governor Phil Murphy was going to order schools to close in light of the emerging health crisis, Hudson Montessori School had prepared in advance and was ready to switch to remote learning within a few day's notice. Friday, March 13, was our last day physically in school. Our remote learning curriculum rolled out on Monday, March 16, and teachers began delivering lessons via Zoom with no lag in learning.
Our Remote Learning Journey During COVID-19
None of this was easy, yet the teachers, the students, and the parents rose to the task. They adjusted to a new way of organizing their work and receiving lessons, utilizing Google Classroom, Zoom, and other supplemental applications that gave us access to online learning tools. Students participate in large group circle, small groups, and individual lessons. Two weeks later, we rolled out our Specials classes, such as PE, Music, Spanish, Art, STEAM, and Dance.
​
This has been an evolving experience for all of us, and we continue to fine-tune the remote learning process for the remainder of the school year. Our teachers make sure that their lessons remain rich, full of purpose, and are part of a valuable learning experience.
​
As our students became accustomed to the new way of learning, online classrooms became more productive and more was added to the classrooms which enriched the experience. Children and families began to adjust to the schedule. According to the Montessori philosophy, this period is the normalization period. This was truly a partnership of the parents, teachers, and students working together.
​
Although, the physical building is closed, our school is not. We had remained optimistically hopeful that our state would rebound from the pandemic and that we could get our children together for a final month of in-school learning. Governor Phil Murphy announced on May 4, 2020, that in-person school learning will not resume for the remainder of the year. Though we wish that we could be back in the classroom, we agree that safety comes first in all matters concerning our children and families. Our last day of school for the 2019-2020 year will be Tuesday, June 16, 2020.
Family Resources Guide
​
Coping With Change
How do we continue to be a role model for our children while dealing with fast-moving change and work/home pressure? There are no simple answers, but we can offer some suggestions.
COVID-19 Information Center
Stories, Testimonials, & Thanks Yous
Testimonials
---
Toddler Program "As long time parents at Hudson Montessori spanning two children, we could not recommend this school more enthusiastically for early childhood education. We continue to be impressed by the leadership, the warm and engaging teachers and the fantastic community of like minded parents. We greatly value education and believe that this school embodies the Montessori philosophy and approach. Ms. Jolly and Ms. Maki have always been available and very supportive of families' needs to accommodate their child. We have been impressed by Hudson's ability to quickly pivot to a virtual experience during the pandemic. Even in the 2 year old class (Rosy Red) Ms. Fumi and her team have done an amazing job engaging the class everyday virtually. We wish Hudson Montessori only the best for the next school year and beyond." Lower Elementary Program "Thank you again for offering a virtual option and for everything that Hudson has done since COVID-19 to teach our child at home. We are very lucky to be part of Hudson and can't thank our child's teachers enough for all they have done since this all began."
---
Thank You to Our Teachers
---
We salute our teachers! We marvel at how our teachers have adapted to remote learning while maintaining the highest standards for our students. Each and every one of our teachers has worked tirelessly to create lesson plans, student work plans, and closely track each individual student. Many teachers have been deeply affected in personal ways by this pandemic. And, many are parents who also juggle their work along with managing their children in the home. National Teacher's Appreciation Week is just another way for us to tell our teachers, "Thank you." Our Hudson Montessori Volunteers, representing our parent body, sent Amazon gift cards as a monetary token of gratitude to all of our teachers and support staff. Usually throughout the year, the parent group of volunteers would have hosted a Teacher Appreciation Breakfast, but that was canceled due to the pandemic. It was a kind gesture by our parents to think about our teachers and staff during this time.
---
Shining Stories During Stay-at-Home
---
We want to point out some of the beautiful things happening in our school community while we have been at home. We have learned many inspiring stories from our children, our teachers, and our parents. Take a look at a couple of them: Comet Upper Elementary class. Our fourth, fifth, and sixth graders wanted to do something to help frontline health care workers during this crisis. The Comet children raised funds earlier in the year and learned that the physician father of one of their friends in third grade, was working 14-hour days at two Manhattan hospitals. As a gesture of kindness, the Comet students sent a cart full of meals prepared by a restaurant to the health care staff at one of those hospitals. The hospital staff thanked the children with photos receiving the food and shared that their meals helped them at that moment "get their minds off the stress of the day." Of course, the people of Jersey City are hit tremendously hard by this pandemic, too. One of our parents, Lynn Hazan, founder of ChicpeaJC, immediately rose to the challenge of helping Jersey City and began a GoFundMe Covid-19 fundraiser to purchase thousands of meals, thousands of masks, and other supplies Jersey City. She continues to organize a citywide relief effort benefiting Jersey City hospital workers, homeless shelters, the Police Department, seniors, and more in need here during the pandemic. The JC Relief Squad purchases food from local restaurants and businesses to also help support them during this difficult time. These stories are wonderful ways to uplift us when things are hard, when the news seems dire, or when there seems to be no end in sight. Through these wonderful examples of our human connection, we gather strength. It is a good reminder to make the best of the situation we have.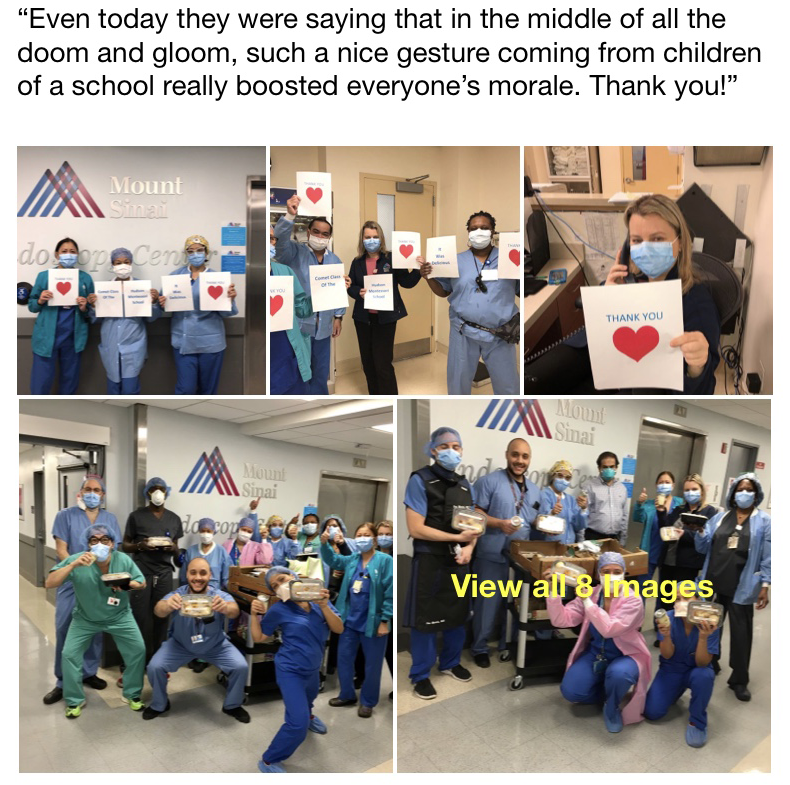 ---
---